Účastníme se ........
NÁHODNÉ OBRÁZKY
COPYRIGHT © TISAO.cz Veškerý grafický, textový a jiný obsah či součást těchto stránek je předmětem autorského práva ve smyslu Autorského zákona č. 121/2000 §11.
Plánujeme štěňátka 2014/2015 s naší Gulchatay!!!
více info brzy...
Podrobnosti
---
ALL PUPPIES ARE SOLD :-) !
VŠECHNA ŠTĚŇÁTKA MAJÍ SVŮJ NOVÝ DOMOV :-) !

Father: GCH. MultiCH.JCH
Romanovs Alabai NAZIR: HD & ED A/ 0 & OCD neg.
(C´Lubim Medzhal Ala x Bagtyijar Nurana )

Mother: GCH. MultiCH.JCH
Midislander Unique Temudzin Kele " AMIKI "
HD & ED A/ 0 & OCD neg.
(Daura Medzhal Ala x Ramenskiy Grizli Luck Ayu)
Podrobnosti
---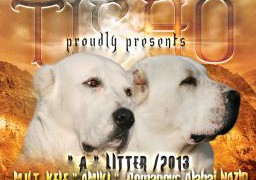 OUR PUPPIES by NAZIR x AMIKI WERE BORN on 14.10.2013 !!!
ALL PUPPIES ARE RESERVED !!!
We have 4 boys & 4 girls, mother AMIKI and all of our 8 babies are doing very well !!! We are so HAPPY and PROUD !!!
Thank You very much for your kind interest, we are very honored .
Podrobnosti
---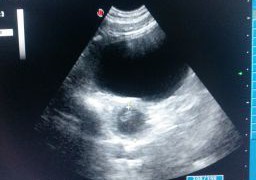 Naše AMINKA bude MAMINKA!!! Gravidita byla dnes potvrzena ultrazvukem a detičky očekáváme kolem 14.10.2013!!!
Our AMIKI will be MOTHER!!! Her PREGNANCY was CONFIRMED, we expect puppies about 14th of October 2013!!!
Podrobnosti
---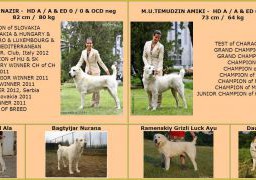 WE are very HAPPY for this NEWS in kennels
TISAO & TEMUDZIN
www.tisao.cz
&
www.turkmenalabay.com
The mating was done, if will be everything OK ,
we expect puppies in OCTOBER 2013 !!!
11.8. proběhlo krytí NAZIR x AMIKI, pokud vše dobře dopadne, ze štěňátek se budeme moci těšit začátkem října.
GRAND CHAMPION of SLOVAKIA
CHAMPION OF SLOVAKIA & HUNGARY & SERBIA & MONTENEGRO & LUXEMBOURG & SAN MARINO & MEDITERRANEAN
CHAMPION of A.I.P.R. Club, Italy 2012
JUNIOR CHAMPION of HU & SK
BEST of KING & VICTORY WINNER CH of CH SK 2011
EAST SLOVAKIA JUNIOR WINNER 2011
JUNIOR CLUB WINNER 2011
res.CLUB WINNER 2012, Serbia
WINNER of Slovakia 2011
DERBY WINNER 2011
Multi. BEST OF BREED

TEST of CHARACTER - T1 result
GRAND CHAMPION of HUNGARY
GRANDCHAMPION of SERBIA
CHAMPION of SERBIA
CHAMPION of HUNGARY
CHAMPION of SAN MARINO
CHAMPION of MONTENEGRO
CHAMPION of MEDITERRANEAN
JUNIOR CHAMPION of HUNGARY & SLOVAKIA
Podrobnosti
---